Buy Mushroom Chocolate Wholesale
Magic mushroom chocolate may sound like a fairy tail term, but this fungal breed contains psilocybin chemical which is a common halluci nogen. Consumed on their own, shrooms have a strong, tangy flavor. However, the intensely flavoured shrooms can be fused with rich chocolate making it a great sweet treat.
Got what everyone has been asking for, Magic Mushroom Chocolate Bars. These are made with tempered Belgian chococlate and each bar contains 4 grams of shroom and is segmented into 15 pieces. Each piece is about .25g shroom each.
Flavors- Milk Chocolate
Dark Chococate – Vegan/Kosher/Halal
Crunch – scored, just showing bottom of bar in picture.
Berries & Cream
Cookies & Cream
Matcha (green tea)
Mint – not mint chocolate, just mint.
Coconut – Vegan
Smores – Vegan
Pomegranate – Vegan
Cinnimon Toast Crunch
Lucky Charms
Fruity Pebbles
Cherry Garcia
Trail Mix – Vegan
Almond Joy – Vegan
Creamy Pistachio
Mint Chip
Given how tasty these bars are it's hard to believe these are made with four grams of magic mushrooms! The chocolate masks any unwanted flavour or texture that might inhibit someone's ability to consume them. No need to plug your nose or try to pretend they taste good with pizza. magic mushroom chocolate bars are each handcrafted and made with the utmost care and love. This is truly a decadent way of consuming magic mushrooms.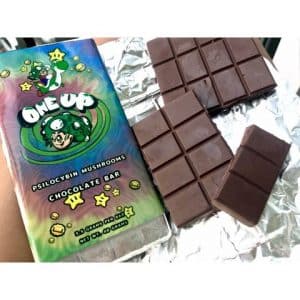 Dosages-
Microdose- 1-3 squares – Stimulate the mind
Therapeutic- 4-9 squares – mindful and elevated
GOD MODE – 10-15 squares – walls might melt.
DO NOT STORE IN FRIDGE. Keep at room temp, 78 freedom units or less if possible.
Contact For Fresh Magic Mushroom Chocolate Bars Now